End papers (also called end sheets or end leafs) are the leaves at the front and back of a hard cover book. They are pasted to the inside of the cover boards and the first leaf of the interior to secure the binding.
At artbookprinting.com we believe printed endpapers to be the finishing touch of a coffee table book. We include it in the base price. You can select any color that compliments the book.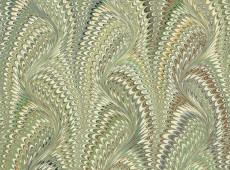 Lately, we have seen a renewed interest in so-called marbled endpapers. Marbled endpapers were widely used in the 19th century but became a nearly lost art in the 1930's. Marbling consists of floating paints on a surface of thickened liquid, manipulating them to create patterns, then lifting the patterns onto prepared paper. Traditional marbling was done with oils or gouache, but acrylic works great too! We offer an extensive, copyright free, library of endpapers. Here are a few examples: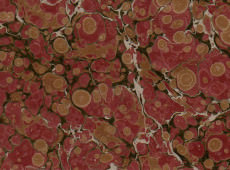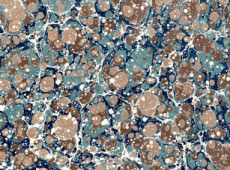 Did you know it is surprisingly simple and fun to make your own marbled paper? To learn how and buy the needed supplies, click here. Do you want something truly unique but not ready to make your own? Search for "marbled paper" on Ebay. There are some beautiful, one-of-a-kind patterns that are inexpensive. Of course, make sure you get copyright clearance from the seller for reproduction in print! Have fun!