It's great that you are working with Rinck as his team is unmatched in their attention to detail, eye for quality and focus on execution.  I am very confident some of the historical challenges you've experienced won't continue under Rinck.  We look forward to continuing to support you work achieving great results together.

(From Ryan Cox to Rod MacIver, president of Heron Dance Art Studios. Mr. Cox is Senior Vice President of Global Procurement at Innerworkings, ArtBookPrinting's parent company.)
We were thrilled to learn that Heron Dance Art Studios selected artbookprinting.com to produce a collection of 30 large wildlife paintings in watercolors and acrylics. These delicate prints are wrapped in a die-cut sleeve that is then fitted into a custom hard-shell case. With a signed edition set demanding a $1,200.00 price tag, there is zero tolerance for even the minutest flaws. The artist had many collectors anxiously waiting to purchase the set, so pressure was on to produce the work quickly. There would be no time to print in Asia.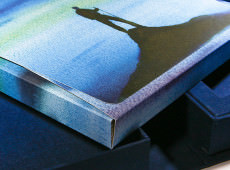 Keeping things close to home this time, we knew of only one press up for the task: the six-unit Heidelberg Speedmaster. When "Heidi" gears up, your heart just pumps a little faster! Massive in every sense of the word, this huge marvel of German engineering gently deposits a color dot on paper so fine, the naked eye cannot see it. It is outfitted with computerized color controls, so plates can be changed quickly with minimal waste. Still, when reproducing a wide palette of watercolor paints with just four inks on the press (CMYK), no technology can replace a trained eye and the most experienced fingers playing the color keys. The craftsmen (and women!) running these machines earn our deep respect.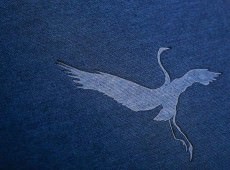 This discerning client had rejected the efforts of two printers before he found Art Book Printing. Could we succeed where these other highly respected firms had failed? Our color proofs are accurate and reliable, but we knew there was only one way we could accept this order: where most printers discourage clients in the pressroom, we would require the artist to be working right alongside the operators.
An artist in the pressroom adds a lot of pressure, especially when the job prints on expensive paper. We quickly learned what the artist was looking for. The artist soaked up the possibilities of pushing ink beyond the proofs, but he also understood the limitations of offset printing. After three days, he flew back to Vermont, exhausted but exhilarated with the work.