The smallest quantity to print a professional quality art book by a professional art book printer
This article addresses a common question: "What is the smallest quantity to print a professional quality book? The minimum quantity order we offer is 300 copies. At Art Book Printing we print and bind coffee table books of museum quality. We do have digital printing equipment available, but only for certain applications (such as consecutive numbering of limited edition books). Color reproduction is always done on offset presses. There is no equal in quality. Our modern presses waste very little paper during set-up. But to match the colors on the printed sheets to your original art, we use up a fair amount of paper. It is not economical to print fewer than 300 copies.
Printing 300 copies of an art book may still be prohibitive for some artists. It is not long ago that that minimums were much higher. Only because of recent technical innovations in book printing can we now offer the finest quality in such small editions.
You will have the cost to professionally photograph your original art. You will incur cost to design and proof the book. These costs are fixed no matter how few or many copies are printed.
Exceptions to the minimum order requirement
There are exceptions to the minimum order requirement. We have printed art books for clients who demanded the finest quality but who authorized completion of only a very small number of books. I sometimes say tongue in cheek: The smallest quantity to print a professional quality art book is 1! And really, in one case we produced just eight copies! These ultra-limited edition art books are often autographed (personalized) by the artist. They are typically very valuable because only a very small number of collectors can own a copy.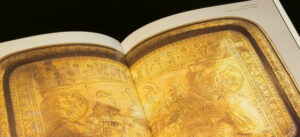 To publish my own art or photography book, what is the right quantity of books to order?
Of course, I wish I knew the answer to this question. It is different for each publisher of art coffee table books. A better question I ask artists is: "Do you have a market for at least 300 copies of your art book?" If the answer is YES, then the investment in design, printing and binding an art book is well worth it. If NO, why would you spend a significant amount of time and money in such endeavor? Some of our art book clients test the waters with this minimum quantity of 300 copies. Often they come back for reprint after reprint. Others do not sell as many but they take tremendous pride in creating the crown jewel of an art career.
Ask for a quotation to print a range of quantities to make the right decision
We can provide you with a quotation that shows the unit cost in a range of quantities, such as 500 – 750 – 500 – 1000 – 1500 copies. That shows you break-even points at your intended retail price.
Often your original art is financially out of reach for many admirers. And to be real practical, collectors have limited wall space. To print a coffee table book can be a wonderful addition to an artist's offering to his or her audience.