ArtBookPrinting.com Management Team
Tap into our experience in the world of fine printing, top-notch binding and professional design. Our team brings know-how from over 8000 print projects to your publishing venture, spanning three decades and three continents.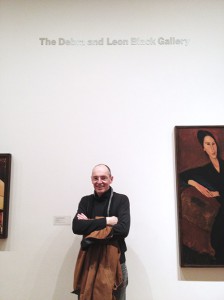 Rinck J. Heule
Rinck J. Heule has designed, engineered and managed the production of over 8000 print projects since 1984.
He was founder and president of PrintSystems Inc., which became HeuleGordon Studios in 1990. PSI/HG was one of the first and most successful print management companies in Michigan, serving clients nationwide for over 25 years. 
PSI/HG's in-house graphic design studio earned several prestigious design awards. The firm was acquired by global print management giant InnerWorkings™ in 2010.
ArtBookPrinting.com embodies Rinck's vision of a studio specialized in design and production of books and catalogs of unparalleled quality.
Since his first print procurement journey to Hong Kong in 1992, Rinck has built strong partnerships with production facilities in the Far East. ArtBookPrinting.com works with plants in USA and abroad, and handles all shipping logistics on behalf of the clients.
Rinck and his wife Marianna, an accomplished portrait artist, live in downtown Grand Rapids, MI. He is a passionate equestrian and runner.
"I started my career in working in sales for a medium-sized commercial print shop in Grand Rapids, MI. It was 1980 and I was fresh out of college. I literally went door-to-door asking for any print job to quote on! I would be thrilled whenever I would find an audience. I would rush a quote request back to the shop, only to be disappointed to learn that my company was unable to efficiently produce the fast majority of these opportunities. In the three years I worked there, this frustration led to the conviction that I had to find a better way to offer printing services. Trying to fit the customer's needs into the mold defined by our equipment's capabilities did not work. I had to come up with a vastly different approach.

The answer was surprisingly simple. Why not really understand the needs of the customer and then assemble the production team and manufacturing capabilities around this need? Why not represent not one, but a group of manufacturers, who complement each other? I started a company called Grand Rapids Print Systems, Inc., in my garage. It grew into one of the largest independent print sales organizations in Michigan. The company was sold to global brand management giant InnerWorkings in 2010.
ArtBookPrinting.com takes this same concept to a whole new level. The vast majority of my time working with a client is spent analyzing the unique requirements of each project. We carefully assemble the team of experts around these needs. The team is seldom the same because each project is different."
Sarah Morefield
Sarah joined the team in 2015 as a Sales and Production Assistant. She is our liaison between the client and the production teams. She helps analyze quotation request and makes sure clients receive appropriate samples, proofs and advance copies of finished books.
Sarah works part-time to be a full-time wife and mom to her two daughters.
Melissa Goggins
Melissa's career in printing spans three decades. She worked at Eerdmans Printing prior to joining the ArtBookPrinting.com team as a production manager. Missy is specialized in the management of diverse and complex projects from pre-press to production and logistics.
Melissa understands that putting ink on paper is really only a small component of the ArtBookPrinting experience. She takes care of all the details so the client experience is smooth, worry-free and joyful.
Melissa lives in rural Michigan with her husband Dan, a printer and photographer. When not busy with her large family, she loves spending time with her horses and 4H animals.
Tiffany Neuman
Tiffany Neuman is a graduate of Kendall School of Art and Design. She started her career with Rinck Heule at HeuleGordon, Inc in 2003 as a junior designer. She became art director of the firm in 2009. In this capacity she designed several highly regarded books on military history as well as art books and catalogs.
Tiffany joined Rinck at Innerworkings following the acquisition in 2010. The company soon recognized Tiffany's artistic and organizational talent. She quickly rose to become responsible for a prepress and creative department that serves over 100 production managers around the country.
Because of her love for design, Tiffany resigned from InnerWorkings in 2016. She continues to work hands-on for ArtBookPrinting.com whenever time allows.
Tiffany and her husband Ryan live with their two daughters in Ada, MI. She is a health food aficionado and avid fitness enthusiast.
Lindsey Kamphouy
Lindsey is a graduate of Baker College who started at ArtBookPrinting as an intern, but quickly advanced to Junior Designer in the summer of 2012.
Lindsey has worked with high profile clients such as the Benjamin Russell Hospital for Children in Birmingham, Alabama. She has designed art books for clients across the continental U.S.
Lindsey lives with her husband in Allendale, MI. She is also an accomplished vocalist.